Understanding Our Part Number Guide
If you're a long-time Premier Mfg customer, we want you to know that we recently decided to update the product numbers for our entire line. Rest assured, this has no effect on the products themselves. Premier MFG will always provide our top-quality products regardless of the part number.
Nevertheless, you may notice the new product numbers on your receipt or packing slip when ordering any of our couplings, drawbar eyes, jacks, hinge assemblies, front-end assemblies, or accessories from a distributor. Don't be alarmed. As stated above, nothing else has changed. You're still receiving the same dependable, high-performance products you know and love.
Please note that this change only affects our part numbers. Premier Mfg product names and specs will continue to remain the same, meaning that it's still easy as ever to order our products from your preferred distributor.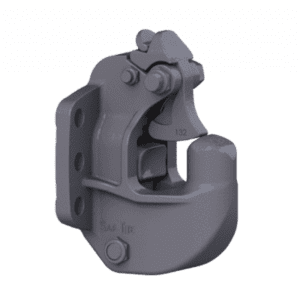 Using the Premier Mfg Part Number Guide
Evolving supply chains can create headaches for purchasers. Here at Premier Mfg, we are committed to serving our customers to the very best of our abilities, and that includes taking steps to make the ordering process as convenient as possible. That's why we recently put together the Premier Reference Guide, so you can always find the parts you're looking for with ease.
Using the table linked above, you can see exactly how our products are currently numbered and compare that to their previous product numbers, which we hope will help eliminate any confusion for purchasers.
As an example, let's take a look at our SAF-TITE Slack Reducing Air Coupling (pictured above). The image below shows an excerpt from our part number guide. In red, you can see the old pintle hitch part number. In green, you can see the new pintle hitch part number. In blue, you can see the product description.

To make use of our part number guide yourself, simply visit the Premier Reference Guide page here, then scroll down the table until you find the part you're looking for. You can also download the guide as an Excel spreadsheet by clicking the link above the table. This file can be stored permanently on your hard drive and opened anytime you need it using Microsoft Excel or Google Sheets.
Get the Parts You Need From Premier Mfg
Since 1924, Premier Mfg has been providing customers with precise, high-performance tractor-trailer parts that are second to none. Customer satisfaction is always our highest priority.
Just because you see a new trailer jack part number when ordering from a distributor doesn't mean that you're not still getting the very best trailer jack available today. A product number isn't a market of quality, but the name Premier Mfg on the box is.
Don't hesitate to reach out to us if you have any questions or concerns about ordering Premier Mfg products. We are always happy to speak directly with our customers.