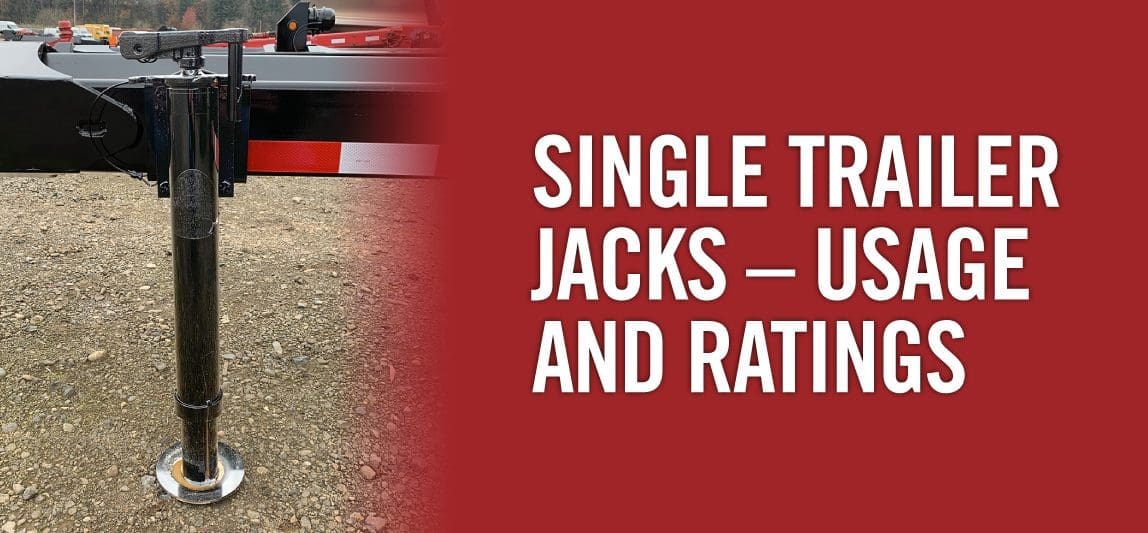 Hauling a single trailer around can be a pain when your trailer jack fails and isn't cut out for the job
It's no fun cranking on an old, rusted trailer jack, wasting valuable time and energy. Or maybe you had one fail on you, leaving you cursing at the sky while your trailer is out of commission.


There's an easy solution to these problems, and they start with determining the jack's weight capacity. Let's look at ratings and what they mean, as well as how to eliminate the dreaded cranking so you can get on the road and get the job done.
Trailer Jack Stand Ratings: Selecting What Works for You
To figure out what size jack is appropriate, you need to figure out the estimated tongue weight, which is approximately 15% of the trailer's dry weight. Then, to account for the load, triple that number to ensure safe and long-lasting operation. Consider this example:
Dry weight of trailer – Part #10001005 (Model #Part #10001005 (Model #450))0 lbs.

Est. tongue weight – 675 lbs.

Recommended static rating – 2000+ lbs.
The status rating applies when the vehicle isn't moving or operational. Always consider the weight of the trailer when loaded, using the 15% calculation as mentioned above.

Premier Manufacturing Jacks: What Sets Them Apart
Premier Manufacturing offers three different jacks that can be customized to match your needs and give you the ability to move loads with ease. They are incredibly durable, well-built jacks made from heavy-duty seamless tubing. Our Jiffy Jack even has instant one lever lowering and retraction without cranking, and all of our jacks are customizable for your specific needs. They can be fitted with an optional compression system as well, giving you extreme shock absorption. Finally, due to their phenomenal construction, they can be easily rebuilt, offering long-term performance and cost savings.
Premier Manufacturing is a private, American-owned company with roots going back almost a century, with the invention of the pintle hitch by our founder Dewey Weiss. Independent Fleet testing proved successful, with 8 of the top 10 LTL carriers specifying our equipment to handle their trucking needs while moving goods across our great nation.
Reach out to us today and discover more about our line of world-class couplings, pintle hitches, and trailer jacks for you and your team.